Top Water Filters for Survivalists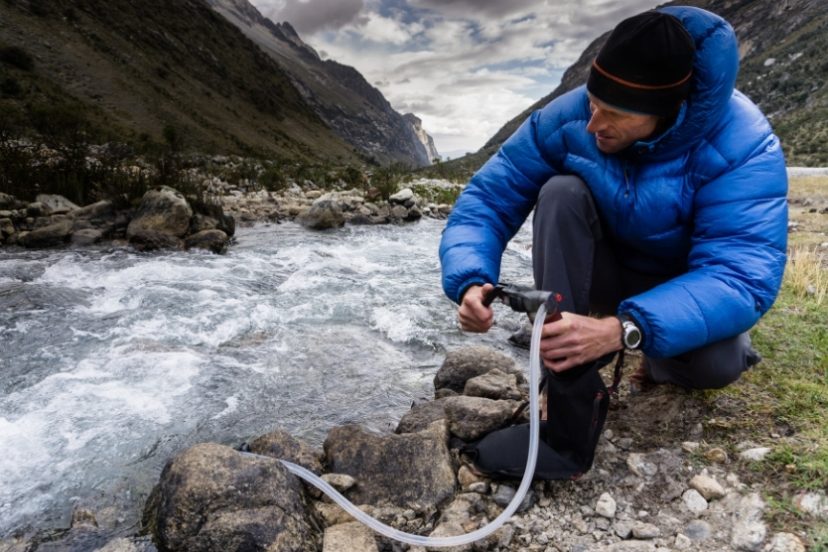 In a survival situation, a good water filter is key to having a sustainable supply of clean drinking water. If you're not sure what type to buy, read on for a few recommendations.
Katadyn Hiker Microfilter
This pump filter weighs in at 11 ounces and can yield one liter of water per minute.
The Katadyn Hiker Microfilter is easy to assemble and operate, although it does require you to have your own water receptacle.
The pump filter is designed to be used even in shallow bodies of water.
The Hiker comes complete with a microfilter capable of removing any larger pieces of debris, as well as the main filter that can remove the tiniest of particles from your drinking water.
The filter is even capable of removing small bacteria and protozoa, including salmonella and giardia.
Water also flows through an activated carbon chamber, helping improve the overall taste and appearance of your drinking water.
>> See a great selection of Katadyn Hiker Microfilters on Amazon
Platypus Gravityworks
The Platypus Gravityworks is a gravity filter that comes in either 2.0 or 4.0-liter options.
The Gravityworks comes with one reservoir for dirty water and one for clean. In order to operate the filter, attach the dirty reservoir to a tree limb or another surface high above the ground.
Gravity will force the water through the filter and down the attached hose, into the clean reservoir.
The Platypus Gravityworks reservoirs are treated with an antimicrobial coating, helping improve the taste of the water inside.
The Gravityworks does not come with a pre-filter, but nonetheless, the filter lasts an impressive 1,500 liters.
>> See a great selection of Platypus Gravityworks Filters on Amazon
Lifestraw Personal Water Filter
The Lifestraw Personal Water Filter is designed for drinking directly from the source. You don't need a deep body of water, either– this straw-style water filter can draw water from a puddle. And this water filter weighs only two ounces, making it an almost weightless addition to any bug out bag or urban survival kit.
>> See a great selection of Lifestraw Personal Water Filters on Amazon
Sawyer Squeeze Filter
The Sawyer Squeeze Filter is a lightweight squeeze filter that comes with two 32 ounce pouches.
Simply fill both pouches, and attach the squeeze filter to the lid of one pouch.
Position the reservoir so that it is upside down, above the squeeze filter. Put a water bottle or another water reservoir below the filter, and begin to use your hands to squeeze water through the filter.
>> See a great selection of Sawyer Squeeze Filters on Amazon
Katadyn Collapsable BeFree Water Bottle
The Katadyn Collapsable BeFree Water Bottle is a 2.3-ounce soft shell water bottle that can hold up to 33.8 ounces of liquid.
The BeFree Water Bottle is ideal for a bug out bag because it can be rolled up and tucked away when not in use.
When it's needed, simply unroll the water bottle, fill it up with water, attach the lid and filter, and take a drink.
The BeFree is a simple and lightweight option. Its biggest limitation is the size of the reservoir– you are limited in how much water you can filter at any given time.
>> See a great selection of Katadyn BeFree Water Bottles on Amazon
Aquamira Shift Vacuum Water Bottle
The Aquamira Shift Vacuum Water Bottle is a great addition to any bug out bag.
This high-tech water bottle features a regular and chemical filter, meaning your water is not only free of the normal bacteria such as salmonella, but also chemicals such as PFAS and PFOA.
The filter can handle approximately 50 gallons of water before it needs to be replaced.
>> See a great selection of Aquamira Shift Water Bottles on Amazon
Conclusion
A good water filter is a must in a survival situation. The filters listed here are just some of the water filters out there.